Our Vision
Self-Defense , Combat Doctrine, Mental Resilience and Personal Growth
Bottom line, what do we wish for ourselves and for our children? Health, joy of life, self-fulfillment and success in whatever one chooses to do. We, as those who have accompanied, mentored and educated many thousands of men and women, teenagers and children of all ages - are convinced that…
Read More
History
History of the Israeli Krav Maga Academy
Shachar Izraeli and Elad Binenfeld have a vision - that every boy and girl in the world will know how to protect themselves! Shachar and Elad grew up in the International Krav Maga Federation - IKMF. Eyal Yanilov, Gabi Noah, Eli Ben-Ami and Avi Moyal were their teachers from 1997-2009.…
Read More
Chairman and Founder
Shachar Izraeli
Expert in training extremity populations, responsible for training instructors and developing self-defense programs.
Krav Maga instructor since 1997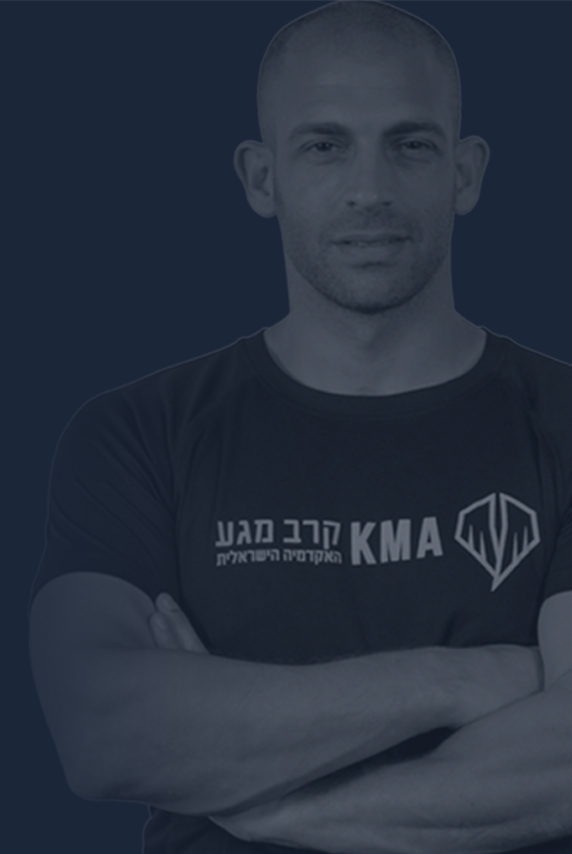 CEO and Founder
Elad Binenfeld
An expert in training extremity populations, he is responsible for promoting awareness programs and preventing violence.
Krav Maga instructor since 2003
Shahaf Gal
Krav Maga instructor since 2011
Yotam Halperin
Krav Maga instructor since 2018
Guy Erez
Krav Maga instructor since 2018
The method
The Academy Training Objectives    
The academy works to give each person three basic abilities:
1. Protect himself from violence - physically verbally and emotionally.
2. Build and cultivate a strong, healthy and supportive emotional inner world.
3. To grow as a person who fulfills himself, contributes to society and is donated from it.
In order to do this, the academy combines two worlds of content: the rich, effective and unique world of the Krav Maga method and a unique teaching model developed in our academy - the "BARAI Model". Moreover, the Academy teaches in a teaching method of "personal training within group training". That is, the teaching methods are specially adapted for teaching in groups, with individual reference of the instructors to each of the participants and the harnessing of the group as a whole for each of its members.
Learn more
BARAI Model
The "how" it works
The "how" deals with the recommended ways of teaching and mentoring content delivery, ways that aim to empower students and provide teachers with practical tools for resolve Problematic and challenging situations in the classroom.
Learn more
What people say about us
parents share – letters of appreciation 
For Itai who is a child with special needs, it is important to be open and accept him by the instructors and the other children.
The contribution is that he has to meet the standards and rules of conduct, and generally succeeds in, of the other children in the class.
Itai learns to defend himself, he learns discipline and friendship and many more habits and rules. I hope he'll know to use it when he'll need it.
Thank you for all the years you, and the instructors and the children have accept him.
Varda Admon
My daughters Eden and Chen have been participating in Krav Maga for about seven years and Sapir for about a year.
My daughters really enjoy attending Krav Maga classes and are looking forward to it.
The training has contributed a lot to my daughters: to their ability to defend themselves, with great knowledge of caution and avoidance of dangers, to their self-confidence and physical fitness.
I highly recommend this class and I think every child should learn Krav Maga from an early age.
Iris Baranez
I have been training with Shahar since the age of 4 and a half and today I am 18 and a half years old.
Except for one year break, I studied Krav Maga for 14 years.
Krav Maga has contributed a lot to me in terms of personal confidence and self-discipline.
Apart from the sense of empowerment that you get from such power and knowledge that you possess, you learn when and how to use it, to keep it only for very extreme situations and only when there is no other choice.
Krav Maga is an educator for values and I would be happy to see more people who can defend themselves in order not to fall victim to one crime or another.
Guy Erez
Dear Shachar, we wanted to thank you for the amazing attitude and sensitivity you have towards the children.
Shakedi started training more than 4 years ago, insecure and weak. And today after years of perseverance, Shaked has confidence and fitness.
We want to thank you for the Krav Maga and for what you pass on to the children beyond the class.
Thanks for everything!
Shaked and Sigal Yosef
I took my son, Erez, to a Krav Maga class at the age of three and a half, after seeing every day for three weeks how children from his kindergarten push him, take things from him, destroy the things he builds, and he stands helpless and cries.
We came to Shachar to learn Krav Maga – the investment and effort were worthwhile.
Today Erez goes to the kindergarten with confidence, he has learned to say "no, I do not like it" and if necessary – also to stand his ground in front of other children.
Michal, Erez's mother
This is the third year that my three children are learning Krav Maga.
From year to year I see how my children are more confident, calmer and physically stronger.
As a mother, I recommend that every parent enroll their children to KMA Krav Maga class, because the skills acquired in the class are a must, such as writing and reading in a first grade school.
I would like to thank you and wish you success in the future as well.
See you again at the next school year!
Marina Shklyar, mother of Liel, Itai and Ilay
I am Jasmine Inbar, mother of Ravid and Noa, who are training for the second year with Shachar Izraeli.
I want to express my satisfaction with KMA and especially with the way Shachar runs the training center.
It is evident that the class improves their physical ability, provides them tools for self-defense and improves their self-confidence.
It is also evident that Shachar invests time and effort so that the training is varied and useful while restraining self-respect and respecting others.
Beyond being a professional coach Shachar is an example and role model for a person who serves in an educational role.
Jasmine Inber
Two of my sons, ages 6 and 9, have been practicing Krav Maga for the second and third year under Shcahar izraeli.
We signed up because we had to deal with physical violence that my children experienced.
KMA gave us self-defense, confidence and self-esteem and abilities to face challenges.
Leading discourse at the beginning of each lesson with solutions for dealing with extreme situations, delayed gratifications, teamwork, self-confidence and developing sports skills.
All this in class with an instructor and instructor assistants, through play combining defense skills, humor and positive reinforcements.
Dina Grad
We work with lots of organizations, companies and institutions
Among our Clients